About Me
My name is Scott Simmerman and I live in Knoxville, Tennessee. Here's a basic timeline of my varied musical background: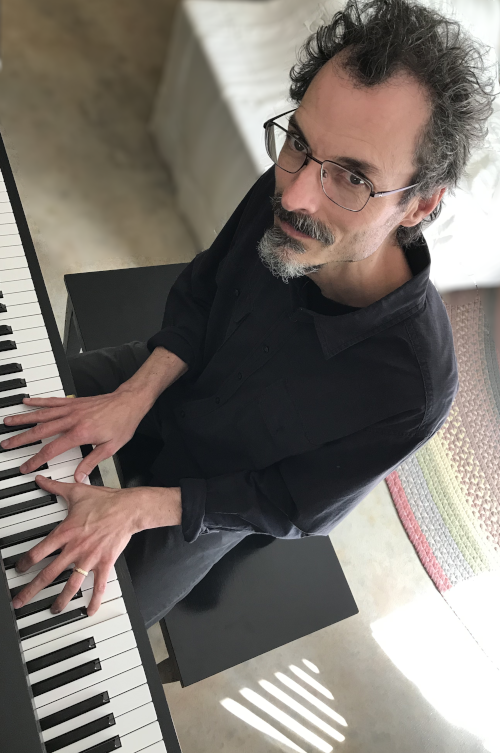 1981 - age 10, started classical piano lessons
1981-1990 - school bands; concert band (trumpet and French horn), marching band (mellophone) and 'jazz' band (keyboard)
1990 - senior year of high school; last year of classical piano lessons; repetoire included Beethoven's Sonata Pathetique, Debussy's The Sunken Cathedral, Liszt's Consolation No. 3, and Mozart's Piano Sonata No. 21
1990 - started at the University of Tennessee (UT), Knoxville, in Biomedical Engineering
1991 - during summer, marched with the Madison Scouts drum and bugle corps (French horn)
1992 - changed major to Studio Music & Jazz, program headed by Jerry Coker; started jazz piano lessons with Donald Brown
1994-present - regular jazz gigs (weddings, restaurants, parties, etc.)
1996 - graduated with B.A. in Studio Music & Jazz
1996-2006 - taught classical/jazz piano lessons; 30 students a week at peak
2006-2009 - returned to UT and completed M.S. in Computer Science
2009-present - full-time software developer; currently at Oak Ridge National Lab
Also, while living in Knoxville, I've worked at almost every recording studio in town. I've done sessions with everything from blues bands to local singer/songwriters to jazz vibraphonists—each one being an adventure in reading someone else's idea of a chord chart.
Something else that's hard to fit into the above timeline is my involvement with church music—which began soon after I started piano lessons. I've accompanied soloists, small vocal groups, and large gospel choirs; played as part of a worship team at various churches and conferences; led a worship team at my own church for 20+ years; written around 15 songs for worship; and developed software to manage a chord chart library.
With this tutorial, I'm hoping to pass along the knowledge I've accrued over the years and take some of the mystery out of playing chord charts. It has been quite a challenge to apply a comprehensive, methodical and exacting approach to a subject that is so interpretive, loose, and sometimes ambiguous. I hope it will help you see and hear things in a new way, leading to greater freedom in your playing.
I would greatly appreciate any feedback you might have about the tutorial. Feel free to email me at:
scott@playingchordcharts.com